Wills and Probate
Who will ensure you reduce your inheritance tax bill so you can spend your savings elsewhere?
Most of us work hard to generate an income to provide for ourselves and our family and want to ensure that they are all taken care of financially. Most people do not realise that unless they make arrangements during their lifetime while they are fit and healthy, the taxman will take a large part of their estate before it reaches any remaining family. Careful planning during your lifetime can save literally tens of thousands of pounds of Inheritance Tax.
Our Wills & Probate Team can help you to plan legally and sensibly.
Wills and probate (Including STEP solicitors membership)
Why make a Will?
Not only can making a will save tax but it also has the following potential benefits:
It ensures that your Estate(property and belongings) goes to those that you want it to, not those that the current legislation suggests it should go to.
You can make your wishes known regarding caring and guardianship of your children.
You can choose the executors who will ensure your wishes are put into effect after you have gone.
If you work hard for your family it is only right that you spend a small amount of time ensuring that your Estate will be distributed how you would like it to be and that you make the best use of tax reliefs and allowances. We use our many years experience in this complex area to protect your interests and the interests of those that matter most to you.
Storage and Will reviews
In some of our will packages we build in free annual reviews and amendments for you so that if you have minor changes we can incorporate them for you. We can also offer safe and secure storage facilities for your wills.
Probate services
Our probate services involve guiding you through the whole of the process and making it as simple and straightforward as possible for you. We will not baffle you with legal jargon or confuse you with unneccessary letters, we will just take care of the estate as efficiently as possible for you.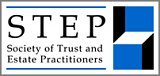 What is STEP Solicitors?
The Society of Trust and Estate Practitioners is a worldwide membership body for all providers of wills, probate and trust services. Members of our Wills & Probate Team are members of STEP
Who will ensure your estate is distributed as you want it to be?
We are here to help you and look forward to doing so.
Call us on (Haywards Heath) 01444 411333 or (Redhill) 01737 761004 now for a free, no obligation opinion and discussion. or complete our online Enquiry Form.